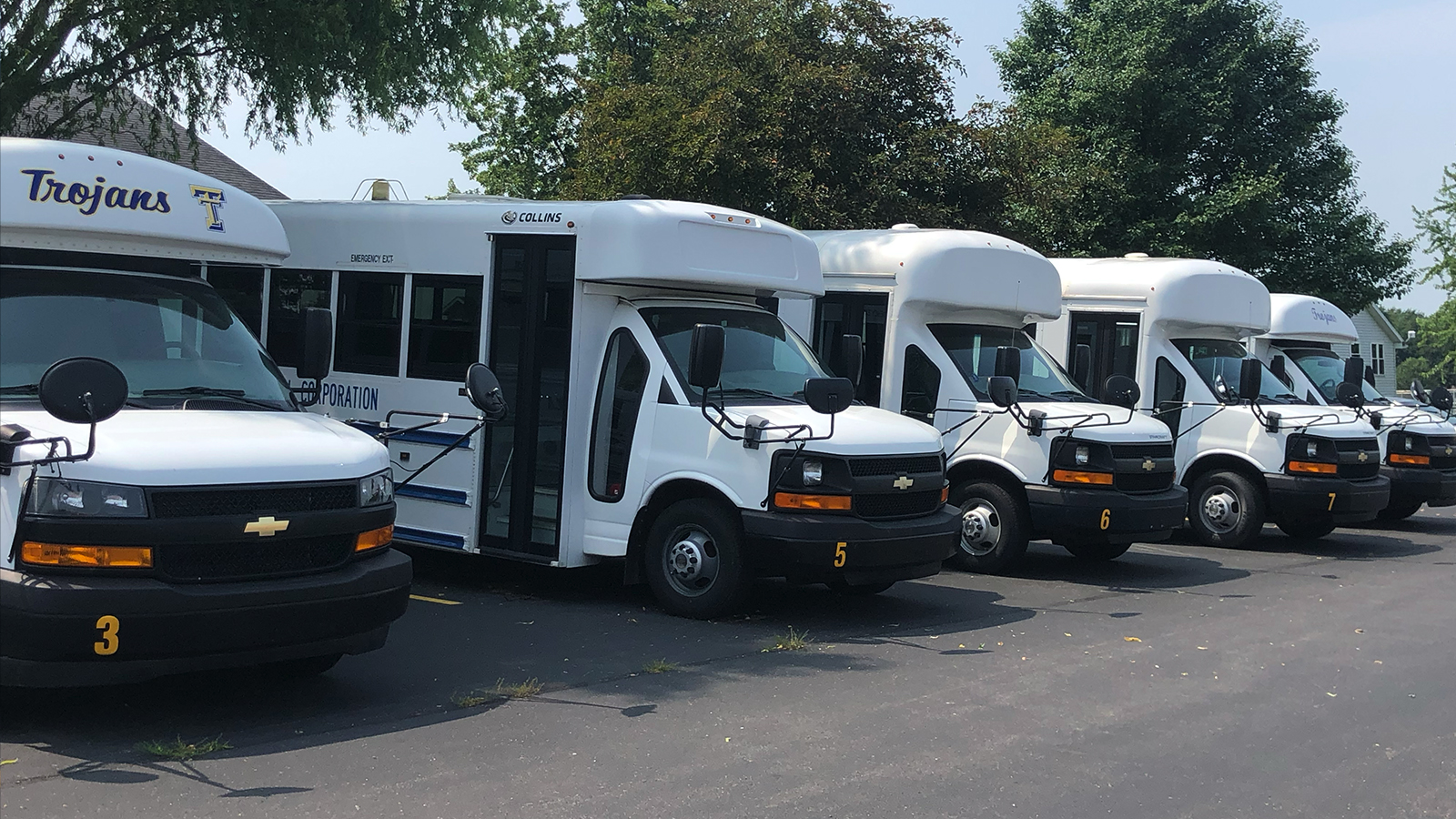 The Transportation Department is responsible for safely carrying students to and from schools.
Laura Baker, Transportation Director
Daniel Semonis, Bus Mechanic

Bus Drivers

#9 Lisa Bemish
#24 Kenneth Cooke
#22 Marikay DeCrow
#23 Cheri Kilgore
#25 Gayle Lemler
#20 Maureen Lemler
#15 Marsha Paul
#14 Ashlie Rice
#16 Claudia Senff
#21 Amanda Shively
#17 Davi Slabaugh
#13 Sheila Thompson
#10 Paula Walls
#19 Richard Walter
#12 Carey Whiteman
Alexandria Rohrer, special needs bus aide

Substitute Bus Drivers

Karen Meister
Kim Berger
Terry Scott
Aaron Talbert
Steve Weissert
Brandi Cottrill, substitute special needs bus aide

Vocational Bus Drivers

Judy Gallinger
Julie Whitehurst
Please be aware that bus transportation is a privilege, NOT A RIGHT. School authorities may suspend a student from riding on the bus because of disorderly conduct. In that event, it becomes the parent's responsibility to see that the child gets to school.
BUS RIDER RULES:
Be on time for the bus. Riders are to be ready and waiting when the bus arrives. On days when weather or road conditions are bad, bus times may vary – be prepared. Buses WILL NOT wait.
Students must have PRIOR AUTHORIZATION FROM THE TRANSPORTATION DIRECTOR if authorized a note from a parent which includes the address to be let off at any stop other than their own.
Students must have a bus pass from the school office to ride a bus other than their own.
Obey all bus driver directions promptly.
Wait in an orderly manner off the road or highway. Do not run toward the bus while it is in motion.
Remain seated and face forward while the bus is in motion.
Riders are to refrain from loud talking and disruptive behavior that could divert the bus driver's attention from the road.
Food, candy, drinks and gum are not permitted on the bus. Music players with headphones are allowed.
The bus is to be treated with respect. Vandalizing and littering will not be tolerated.
Treat other riders and the bus driver with respect.
Please discuss the above rules with your child to ensure he/she understands the expectations. Thank you for your cooperation and understanding.
*** Reminder ***
Anytime your child is not going to ride the bus, please let the driver know - especially ifyou live at a turnaround. You may call your child's bus driver or call the bus garage andthe information will be relayed to the driver.
If your child does not ride the bus for 3 days straight, the bus will not stop again until we are contacted by you regarding ridership.
Students are expected to be out at their designated bus stop waiting on the bus. Be prepared - bus times may vary by as much as 10 minutes before or after the usual time due to weather, number of riders, road conditions, etc.
DRIVERS ARE NOT REQUIRED TO WAIT FOR STUDENTS WHO ARE NOT AT THE BUS STOP ON TIME. SERVICE TO OTHER STUDENTS IS DELAYED IF BUSES HAVE TO WAIT ON STUDENTS.